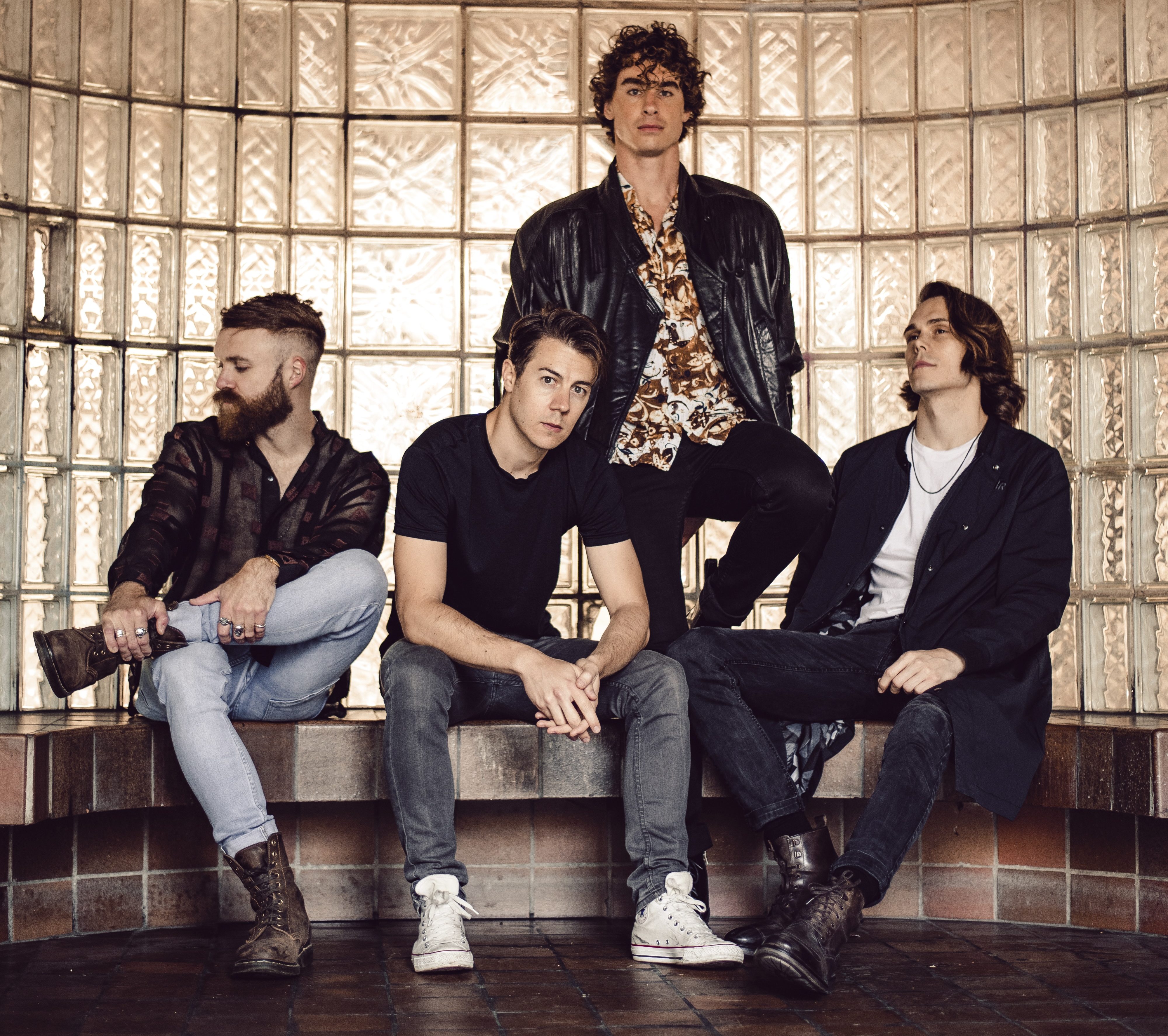 Credit: Don Broco
Opening for a legendary artist like Mike Shinoda is no small feat but the four guys in Don Broco are not easily daunted. When they stride onto the stage at REBEL—on only the second date of the tour—they look ready to melt our faces off. As a nightclub that occasionally doubles as a music venue, REBEL is not my favorite space for a rock show, because of the abundance of couches and small tables that make it hard to dance around, but that doesn't stop the audience from letting loose.
A good chunk of the crowd has seen Don Broco before—either when they supported Our Last Night this past spring or at Warped—so there's a hearty round of screams before they even start. The band is energetic and obviously thrilled to be on stage, throwing themselves into their performance and it pays off. As soon as the first song "Everybody" kicks in with its funky guitar intro and heavy bass, the crowd moves and shakes along. The call-and-response "woos" at the beginning of "Automatic" are always fun not only to sing but also to hear how off-key some people are (myself included). Singer Rob Damiani calls for a circle pit during "Stay Ignorant" and  a dedicated group about halfway across the floor spins themselves into a frenzy, catching the band's attention.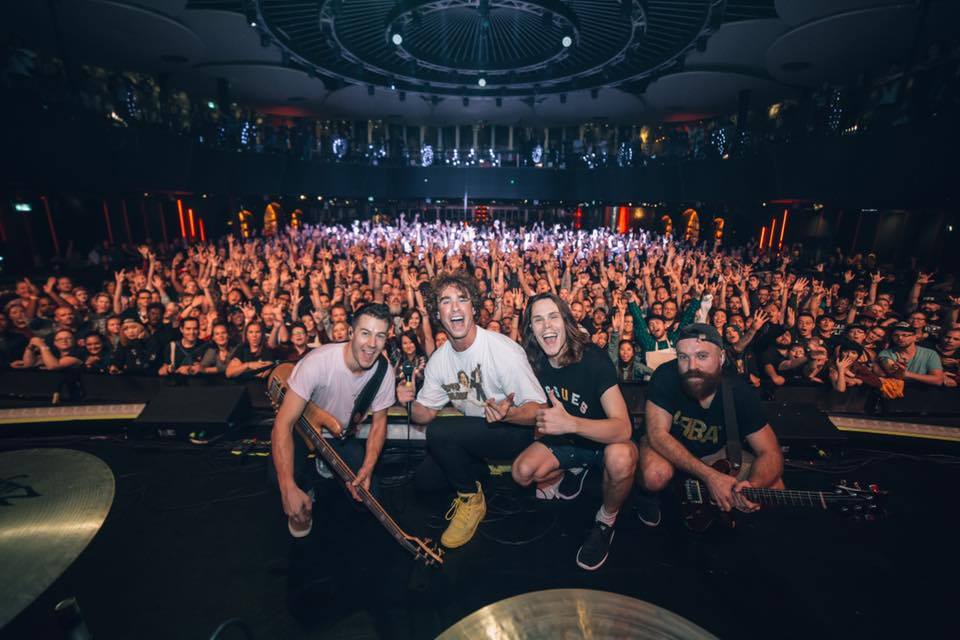 Credit: Chady Awad
I'm standing on the balcony, looking out over the crowd, but even though I'm slightly removed from the action, I can feel the energy emanating off the floor. Singles like "Pretty" and "Come Out to LA" result in a bit of moshing (as much as the crowd can manage, given their cramped quarters), while the slower "Nerve" has people swaying. Don Broco closes the set with "T-Shirt Song"—my personal favorite—which is guaranteed to get people off their feet and leave them more than pumped for the main act.
After Don Broco's half-hour set their tour manager leads me backstage to chat with Rob Damiani who, despite being "knackered" (his word, not mine), greets me enthusiastically, remembering me from our last interview in March. The other three band members wander in and out of the dressing room while we sit on a black couch and catch up, in the background there's a pounding bass vibrating through the walls as Mike Shinoda takes the stage to eager applause.
The band is stoked to be back in North America, even though it was all very last minute. They were announced as support two weeks before the tour kicked off in Montreal on October 10. "It was one of those right place, right time moments," says Damiani. Don Broco had supported Mike Shinoda in Europe last month and, at one of the last shows, Shinoda invited them to join him in America. "It was a real magical moment for us as a band," adds Damiani. "He was always one of our biggest idols, it's insane to think someone we grew up listening to has now heard our band and likes our music. We really clicked as people so we knew we had to make this work somehow."
As incredible as this opportunity is, Don Broco wasn't expecting to return to North America so soon. "We were thinking this would be our time off," says Damiani. "This is the busiest we've ever been, we've never toured this much in our career." He admits that the band had been looking forward to some downtime but adds with a laugh that they know they can't stay still for too long.
Despite the fact that they just released Technology in February and have been on the road for most of the year, Don Broco isn't about to let the momentum die. "We're now getting to the point where we're excited to start writing music again," says Damiani. "For the first time, we're attempting to write some music on the road." Guitarist Si Delaney interrupts to point out that they had worked on their first album while touring and Damiani admits that it's actually easier to do it now given how far technology has come since Priorities was released in 2012. "It's so easy to record now. As soon as you have an idea, you can get it down and realized instantly. We're hoping to have a bit more time in the next few weeks to get the foundations down for new songs."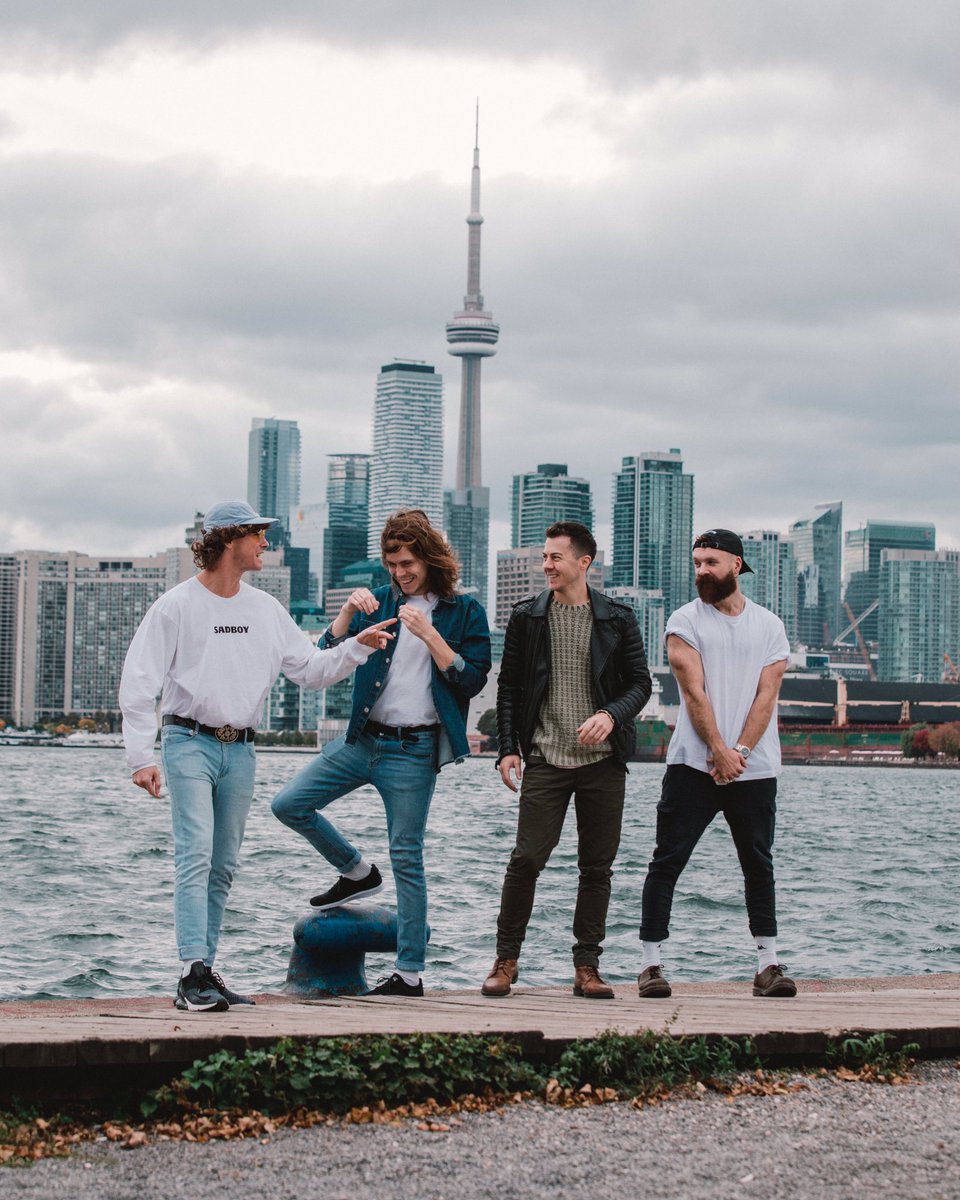 Credit: Chady Awad
It's impressive that they can even think of writing new music when they're already so busy. Once this tour with Mike Shinoda is over, Don Broco is planning a trip to Asia before the end of the year, then 2019 will kick off with a bang as they head out on a headlining tour across Europe and the UK. Their UK leg in particular sees them playing huge venues like Wembley Arena in London with support from Neck Deep and Issues. The last time Damiani and I talked, Issues had been on Don Broco's wishlist, and it's amazing to see they now have the chance to work together. "We're massive fans of that band, they're the coolest guys," Damiani raves while drummer Matt Donnelly proudly models the Issues t-shirt he was wearing during their set. "It's going to be awesome to bring them to the UK and expose them to a lot more people. They're so talented, they have such a unique sound. More people need to know about them in Europe.""It's insane to think someone we grew up listening to has now heard our band and likes our music."
And after that? Even more touring. Damiani teases a return to the US (and Canada) in the spring. He's not yet allowed to tell me who they'll be supporting though, only hinting that it's an American band. Ideally, Don Broco wants to try their hand at headlining North America themselves by next fall, something that seems more possible now than ever before. This is their fourth time in the US in a year and a half (their first show stateside was with State Champs in April 2017), and after spending hours doing meet & greets at Warped, they're working on building up their audience on this side of the pond. If tonight's show was any indication, they're steadily gaining fans with every performance.
If you've missed your chance to see them this year, their new video for "The Blues"—the latest single off of Technology—captures a typical Don Broco live experience. Damiani calls it a "snapshot" of their summer. It encompasses moments from Warped, UK festivals, and their European tour with Mike Shinoda. In between scenes of crowds dancing and swinging t-shirts over their heads, there are shots of the band cheerfully exploring all the new places they've visited over the last seven months.
They've come a long way from their home in Bedford, UK and Don Broco is getting a chance to play some huge venues in North America but they're not taking anything for granted. Don't be surprised if you see them headlining these same venues in a couple of years. At the rate they're going, it's only a matter of time before everybody knows who they are.
---
Wanna see Don Broco live sometime in the next few months? Get your tickets here.
Opening for Mike Shinoda:
10/23 – Raleigh, NC @ The Ritz
10/25 – New Orleans, LA @ House of Blues
10/28 – Dallas, TX @ House of Blues
10/30 – Las Vegas, NV @ House of Blues
11/02 – Hollywood, CA @ Hollywood Palladium
11/05 – Anaheim, CA @ House of Blues
11/06 – San Francisco, CA @ The Masonic
11/08 – Salt Lake City, UT @ The Depot
11/09 – Denver, CO @ The Fillmore Auditorium
11/11 – Chicago, IL @ House of Blues
11/12 – Cincinnati, OH @ Bogarts
11/14 – Boston, MA @ House of Blues
11/16 – Detroit, MI @ The Fillmore
11/17 – Silver Spring, MD @ The Fillmore

Europe/UK Headliner in 2019:
01/17 – Madrid, Spain @ Sala COol
01/18 – Barcelona, Spain @ La Nau
01/19 – Milan, Italy @ Legend Club
01/21 – Vienna, Austria @ Flex
01/22 – Warsaw, Poland @ Proxima
01/24 – Berlin, Germany @ Bi Nuu
01/25 – Frankfurt, Germany @ Zoom
01/26 – Paris, France @ La Maroquinerie
01/27 – Cologne, Germany @ Club Volta
01/29 – Utrecht, Netherlands @ TivoliVredenburg
02/01 – Manchester, UK @ Victoria Warehouse
02/02 – Manchester, UK @ Victoria Warehouse
02/03 – Plymouth, UK @ Plymouth Pavilions
02/05 – Cardiff, UK @ Motorpoint Arena
02/07 – Edinburgh, UK @ Usher Hall
02/08 – Nottingham, UK @ Motorpoint Arena
02/09 – London, UK @ SSE Wembley Arena