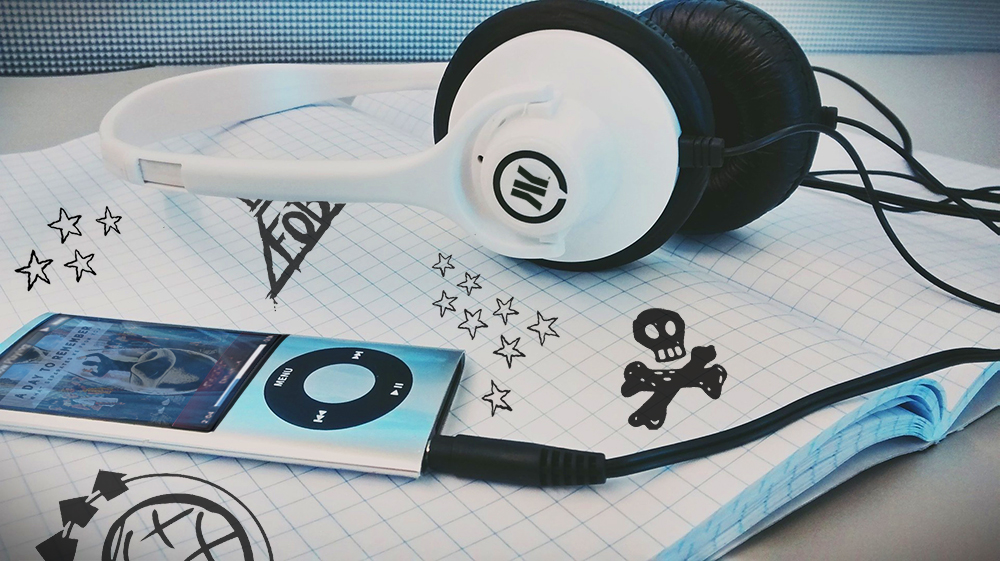 Even though we're all going old and grey at an alarming pace, ten years is still a long freakin' time—especially when it comes to music.
I remember driving home from college freshman year with A Day to Remember's What Separates Me from You blasting through the crappy speakers of my '99 Cavalier.
I actually burned blink-182's Neighborhoods onto a CD…a compact disc.
I had the immense pleasure of making the spoken-word bridge of All Time Low's "Forget About It" my AIM away message.
So here's the Top 5 from My Top 4 Bands of the 2010s (my songs know what you did in the decade). Basically, these bands were essential for my growth into a semi-functioning human being. I owe it all to their growth as musicians, which turned the past decade into a wonderful musical whirlwind.
—
A Day to Remember
Top 5 of the 2010s

"Degenerates"
A Day to Remember closed out the decade with a familiar but intriguing pop-punk sound—one that features none of their often-used metal influences. Freshly inked to Fueled By Ramen, ADTR took the opportunity to appeal to old and prospective fans and they knocked it out of the park once again.
"All Signs Point to Lauderdale"
From the opening lines of "All Signs Point to Lauderdale" you knew the band had written a landmark track—an ode to anyone loathing their hometown. It's one of the catchiest songs in their catalog and perhaps the moment when we first experienced their true pop prowess.
"I Surrender"
There's a reason ADTR are nicknamed "The Fray to Remember" (it's an amazing name, yeah, and they did cover that Fray song that one time) but it's a testament to how the band can flip the switch in an instant to their borderline adult-contemporary style pop-rock. "I Surrender" showcased that expertly.
"Good Things"
Another one of the band's excellent pop-leaning tracks, the bouncy "Good Things" was remarkably only a b-side on their 2013 full-length Common Courtesy. The album, in general, was packed with great songs so it's hard to single out the most memorable, but it's hard to ignore something with such an addictive melody as the one found here.
"Right Back at It Again"
"Right Back at It Again" was somewhat of a personal battle cry in the midst of the seemingly never ending legal troubles with former label Victory Records. Eventually coming out victorious, the Common Courtesy single became a defining song in the band's career.
—
blink-182
Top 5 of the 2010s

"Even If She Falls"
You won't see much of Neighborhoods on any "best-of" blink-182 list. The album wasn't bad; everything after was just better. "Even If She Falls" is Tom DeLonge's finest when it comes to solo Blink tunes—it had a bit of their Untitled edge mixed with a slight Angels & Airwaves influence instrumentally.
"Bored to Death"
It felt like a pop-punk fever dream when Alkaline Trio's Matt Skiba officially replaced Tom DeLonge. The anticipated debut single from new-look Blink lived up to expectations—it had a solid Mark Hoppus-Skiba vocal dynamic, strong drum work, and a bridge that sounded like classic Blink. "Bored to Death" definitely set the tone for the Grammy-nominated California LP.
"She's Out of Her Mind"
Without a doubt, "She's Out of Her Mind" sports the biggest hook in the resumés of both Hoppus and Skiba combined. It's kind of a given when you take two guys ridiculously prolific at pop writing and have them join forces with powerhouse producer John Feldmann. You can argue the song is maybe too slick by Blink standards but you're kidding yourself if you don't have the tune embedded in your head after one listen.
"Pin the Grenade"
As great as California was, last year's Nine really saw Blink find their true identity. Skiba's parts were stronger, risks were taken throughout and generally paid off. A major highlight is "Pin the Grenade", a full-fledged anthem that wishes it could have been on every teen comedy soundtrack to from the 90s.
"Rabbit Hole"
Since blink-182's reincarnation there's only been a few songs that encapsulate everything the band is. The greatest example is California's "Rabbit Hole". The fast-paced stereo rattler utilizes Skiba and Hoppus flawlessly with a fantastic performance on the kit from Travis Barker.
—
All Time Low
Top 5 of the 2010s

"Guts"
All Time Low were gaining ground on their "next big thing" reputation when they signed with Interscope Records. The ensuing record, Dirty Work, was supposed to be "that" big chance. It was ultimately quite polarizing but not without some of the best moments in their discography; "Guts" can throw its hat in the ring with little resistance from fans and critics alike. Despite Dirty Work's inconsistency, "Guts" was a shining track that gave the best that All Time Low had to offer.
"If These Sheets Were States"
Long-distance lovers found solace in the maddeningly catchy "If These Sheets Were States", a track with verses that matched the intensity of its soaring chorus. The mixing from legendary producer Neal Avron virtually catapulted the entirety of Don't Panic to new heights but "States" was the gem that deserved its own praise away from everything else.
"A Love Like War"
Off the later-released deluxe edition of Don't Panic: It's Longer Now!, "A Love Like War" will still find itself amongst All Time Low's most played songs—even after a good seven years. Its appeal can be credited to a shift to a harder sound for the band, and the addition of Pierce the Veil's Vic Fuentes brought legitimacy to that shift. It also brought together two major genre heavyweights.
"Last Young Renegade"
The title track to All Time Low's Last Young Renegade kicked off the record with style; it had a nostalgic feel—unrelated to any specific ATL sound but rather a moment in time for the listener. The song added new meaning to "rolled-down-windows pop" that begged to be your musical companion to any long drive.
"Ground Control"
There's no question that Last Young Renegade will be seen as one of All Time Low's best, when their career is all said and done, and it's because of cuts like "Ground Control". Featuring Tegan and Sara, the sisters bring over their throwback electro pop prowess, turning "Ground Control" into the band's most unique song to date.
—
Fall Out Boy
Top 5 of the 2010s

"Young Volcanoes"
2013 saw the rise of folk-esque indie-pop manning the charts—with the likes of Mumford and Sons and cousins and aunts and uncles providing that tune that had you tapping your toe for weeks on end (even though you had no idea what the song was called). Fall Out Boy tried their hand in that scene on their illustrious comeback album Save Rock and Roll; the charts don't say it but "Young Volcanoes" did it better than the rest. The campfire-core acoustic cut was brought to life by Patrick Stump's impeccable pipes and it was one of the many standouts from that incredible return.
"My Songs Know What You Did in the Dark (Light Em Up)"
After speculation, rumors, and internet sleuthing, Fall Out Boy opened the curtain on their reunion with a bang. "My Songs" was an earth-shattering rock return that resonated with the mainstream and even acted as a little Easter egg for longtime fans (the song title stemmed from an old unrelated demo).
"Irresistible"
Since the band's reunion, Fall Out Boy have been masters of crafting the ultimate fight song—the ones you hear during montages of LeBron James dunking on peoples' heads. "Irresistible " was one of their best, in that regard, and a plain great FOB song to begin with. A later remix of the track featuring Demi Lovato added a new dynamic but each version had a respective amount of firepower.
"Young and Menace"
"Young and Menace" is more or less an audio acid trip and perhaps the most divisive song Fall Out Boy has ever written. The Mania track is a dose of glitchy EDM-laden rock that barely even knows what genre it is itself. Cap it off with a reference to Britney Spears and you have a tune that describes Fall Out Boy's past ten years—weird, exciting, and unafraid of going against the grain.
"Save Rock and Roll"
The standout from Save Rock and Roll was its ambitious title track—it was nothing like anything FOB had crafted before. Granted, they weren't strangers to grandiose songs like this, but what they did here reached further than imagination. Not only did they enlist Elton John for a feature, they made sure he was essential to making the track as electric as it was. "Save Rock and Roll" is emotive, bold, and successful on every risk attempted. It may not have been the pop-punk that got them to where they are but it was the blueprint for who they wanted to be going forward.