Basically: We're here for Higher, Further, Faster but maybe not so fast.
Captain Marvel is the first female led solo movie to come out of the Marvel Cinematic Universe (MCU). It finally happened! This movie also leads directly into Avengers: Endgame. So, yeah, the pressure is high. Allow me to take some of the anticipatory anxiety away: It's an enjoyable movie, I mean Captain Marvel is cool…I guess…yeah…let's move on.
This is an origin story. I repeat: This is an origin story. And y'all know how I feel about those. Still I'll admit the backstory here is probably necessary to make sure Captain Marvel, herself, fits seamlessly into the MCU. It's matters.
Our hero is former flygirl Carol Danvers (Brie Larson)– What? No, I mean she was an Air Force pilot at one time in her life. Think Top Gun but with female pilots—Lashana Lynch as Maria Rambeau, Annette Bening as, um, Several Somebodies—and lots of super experimental, extra powerful tech. Also karaoke at dive bars. This is the 90s, baby, and this movie totally captures all the swaggering glory we've come to expect from elite military films.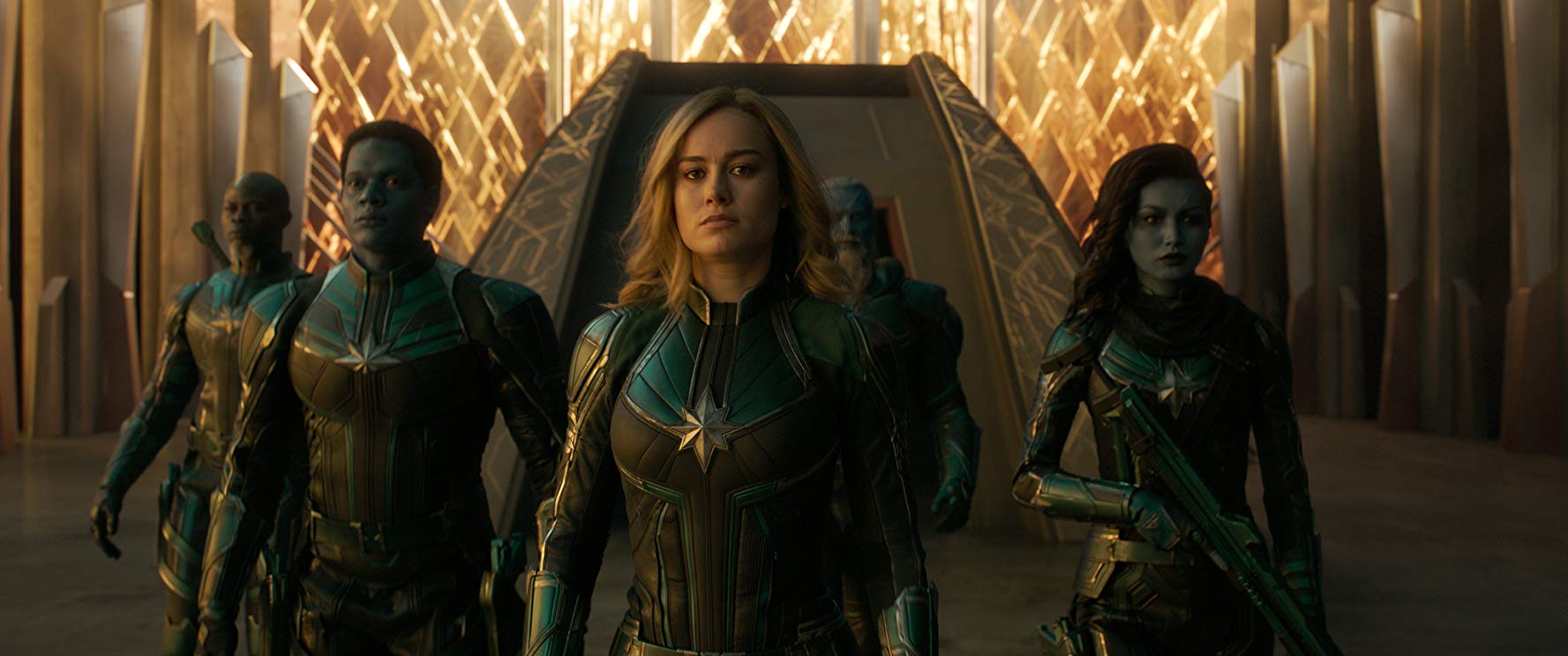 Photo © Marvel Studios
Oh wait, I forgot to tell you about the elite military unit. They're called the Kree, a race of sometimes blue, sometimes amber-eyed warriors, who are in an infinity war against a race of green shapeshifters called the Skrulls. Oh my gosh, comic book fans, we finally get SKRULLS. This movie even delivers Skrulls On The Beach, which is a cocktail no one should drink…not even when it's the 90s and you didn't know better. Anyway, back to our elite military unit of Kree. They're led by Yon-Rogg (Jude Law). Since it is canon that all the members of an EMU (elite military unit) must be as sexy as their leader, Minerva (Gemma Chan), Korath (Djimon Hounsou)*, and Vers (also Brie Larson) naturally answer Yon-Rogg's call.
How Carol Danvers became Vers [pronounced: Veers] is the heart of Captain Marvel and it's a pretty fun ride. We all love a hero's journey and from the beginning directors Anna Boden & Ryan Fleck with co-writer Geneva Robertson-Dworet make it clear Vers has a long way to go. She's impetuous and angry—we cannot trust her judgement at all. Vers actually tells Korath that he's not "good looking". Korath is Djimon Hounsou. Damn, those screenwriters are clever. We now know something is off with Vers and that means we have to watch her.
And keep an eye on her we do, because Vers is an ass-kicker, which is how we end up on Earth (C-53). Where we get nods to Terminator in a Blockbuster Video store (ahh, the memories). Then lots of sight gags happen. This entire sequence will make you smile but you won't start grinning until  the Captain Marvel buddy movie starts, starring Vers and Young Nick Fury (Samuel L. Jackson). The two are great together. And there's an origin story inside an origin story because we find out how Nick Fury started, um, furying.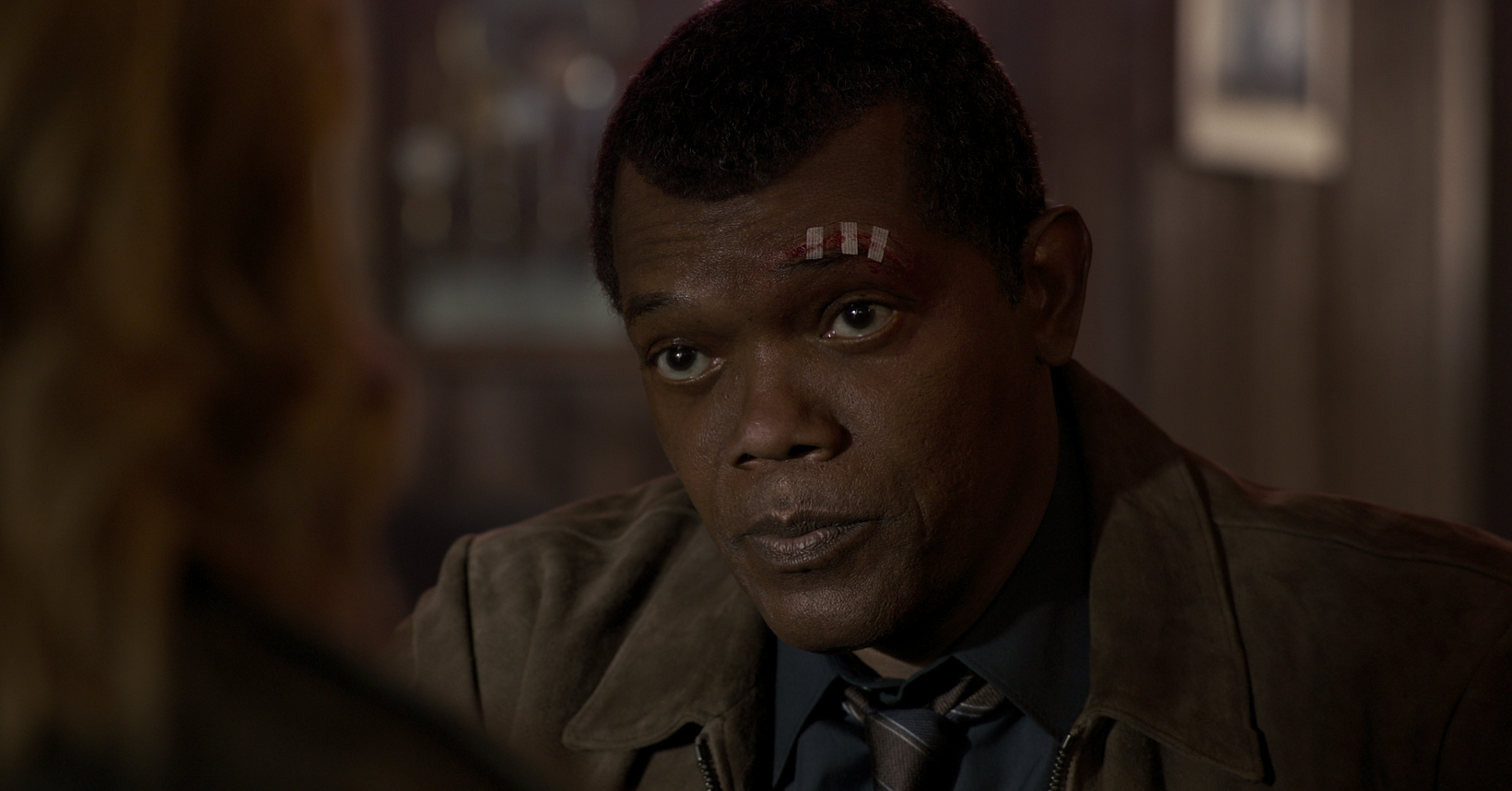 Photo: Chuck Zlotnick © Marvel Studios 2019
See. It's cool…I mean, it's enjoyable…I guess…I mean, it's pleasant, but I feel like the emotional impact you take away from the movie relies on the emotional connection you bring into the theater with you. I love sisterhood. That love makes the scenes between Carol and Maria a touchstone for me. [edit: Now that the movie is out I can also say that beyond sisterhood the relationship here feels like love. Perhaps they'll explore that more in future films.] I also want Monica Rambeau aka Photon aka Pulsar aka Spectrum aka also Captain Marvel to take her place in the MCU, so when the young Monica (Akira Akbar) shows up on screen I clapped. Your touchstones might be different but you'll be the engine that fuels your engagement with the film.
You'll see every plot point coming from light years away, which might account for the lack of punch when the credits end. The characters are incredible but there are no surprises here, likely because the film seems so basic. There's even a touch of Men In Black. And although I can't tell you much more, I will say: Carol powers up way too fast, going from zero to deus ex machina in no time flat. Which seems to service the upcoming Avengers: Endgame more than it does the character herself.
In the End: We all know you're going to see it and you'll probably enjoy it, but mostly as the appetizer to Endgame and because we need more female superheroes.
—
*footnote: Can I just have the movie where Gemma Chan and Djimon Hounsou are space bounty hunters who find out they're actually royalty from two rival planets and have to go  fix things?