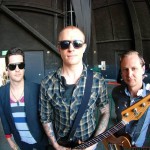 Eve 6 and Everclear will head out on tour together at the end of October with support from Namesake.
Can you guess tonight's theme for First Person with Josh Madden?
Tune in at 8pm EST and twitter your guess to @JoshMadden. The winner gets… well, nothing – but maybe we'll have something for you next week.